David L. Payne
and The Rock Falls Settlement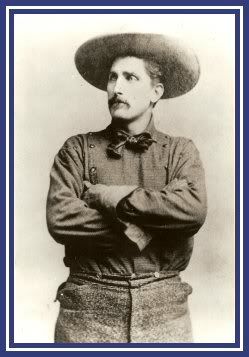 David Payne
He was born David L. Payne, on December 30, 1836, to William and Celia Payne near a settlement in Indiana. At the age of 21, be became a Kansas Pioneer, serving three years for the Union in the Civil War and was also a member of the Kansas legislature in 1864.
Other accomplishments of Payne were captain of a company in the 18th Kansas Cavalry for service against the Plains Indians in 1867 and in 1868, he was a troop captain in the 19th Kansas Volunteers. After joining Custer in his campaign against the southwestern Indians, he was again elected to the Kansas legislature, and was assistant doorkeeper in the National House of Representative in 1879.
After all this, it wasn't until the age of 43 before found his real calling in life. It was then he became the leader of an army of homeless "Boomers" who sought to settle upon the untouchable lands of the Indian Territory. For five years he would challenge the government of the United States over the issue of opening Oklahoma for settlement by invasions into the Indian Territory. One such invasion happened in the spring of 1884 in present day Kay County at a little settlement called Rock Falls.
Rock Falls was located just south of Hunnewell, Kansas on the Chikaskia River just below the mouth of Bluff Creek. Drovers had know the place as Rocky Ford. During trail-driving days, the surrounding area and had been designated as the "Quarantine Grounds" where cattle would be held as a check point for Texas Fever.
Historical Marker near Rock Falls Settlement
In mid-May, the first ground to be broken was for a building to house the "Oklahoma Chief", Payne's newspaper, and the first one printed in Oklahoma. Three others followed which housed a restaurant, a motel of sorts and a drugstore. Additionally, a small tent and dugout town sprung up around the nucleus of these buildings. By the first of July, Rock Falls was a thriving community of 250 to 300 people.
In August, Colonel Hatch of the Ninth Cavalry moved six companies to a camp on the Chikaskia, 10 miles below Rock Falls, just north of present day Blackwell. This was done to maintain a surveillance of the developing boomer communities. Orders were sent to ask, but if necessary, to move the boomers back to Kansas, but obviously Payne and his colonists would not leave short of being forced.
On August 7, tow companies of the 9th Cavalry arrived. These troops were under the command of Captain Francis Moore, with Lieutenant G. Valois in charge of Troop I. Following behind the troops were a number of cowboys and citizens of Hunnewell and Caldwell, Kansas.
The soldiers quickly surrounded that startled camp and began rounding up the homesteaders. Boomer leader D. Payne was captured and placed under guard. The troops busily ordered the homesteaders into caravans, and escorted them back to Kansas. The four buildings in the community were set afire, and Payne was loaded into a wagon and transported to Fort Smith to face Judge Isaac Parker.
Judge Parker, better know as the hanging judge, didn't have time to mess with Mr. Payne. He looked at him more as a a small time trouble maker. There were to much more trouble in the territory to worry about then this. Payne was brought in front of the judge and was told to stay out of the territory. He was put on the next train back to Kansas. Today, on the site of Rock Falls, a dam has been built and is called Lake Blackwell.
David Payne never saw his dream of a homestead in Oklahoma due to his sudden death in Wellington, Kansas in November of 1884. His life was full of controversy, and he was probably the most loved, but also the most hated man on the Kansas frontier, but there can be no doubt that he was the driving force behind the settlement movement and the man who first saw fully the dream of Oklahoma.

David L. Payne's Chronology of Boomer Intrusions

1st Intrusion - April 25, 1880. Payne leads party to present south Oklahoma City and established Ewing"
2nd Intrusion - July 6, 1880. Leads party to Council Grove and Ewing. arrested July 15, and taken to Fort Smith.
3rd Intrusion - (Attempted) Dec. 1880 to Jan. 1881. Lead large group from Arkansas City to Caldwell, Kansas,
before disbanding in the face of U.S. Troops.
4th Intrusion - July 1881, Payne crosses through the Oklahoma lands from Gainesville, Texas with two others.
5th Intrusion - December 1881. Payne leads group from Dennison, Texas.
6th Intrusion - January 1882. Payne leads party to Payne's Springs (present Oklahoma City)
7th Intrusion - February 1882. Payne takes residence in Deep Fork dugout near present Arcadia.
8th Intrusion - May 9, 1882. Payne leads colony to Deep Fork near Arcadia.
9th Intrusion - August, 1882. Payne leads expedition to North Canadian, near present Jones.
10th Intrusion - February, 1883. Payne leads large expedition to Camp Alice of North Canadian.
11th Intrusion - August 1883, Payne remains in Kansas while W.L. Couch, one of his lieutenants, leads colony to Payne's Crossing of the Cimarron, north of Guthrie.
12th Intrusion - April 1884, Couch leads Payne's Colony to Council Grove and Payne's Springs.
13th Intrusion - July, 1884, Couch leads group to Payne's Crossing.
14th Intrusion - May to August, 1884, Payne establishes Rock Falls settlement in the Cherokee Outlet, south of Caldwell. Settlement burned by troops August 7th. November, 1884, David L. Payne dies at DeBarnard Hotel in Wellington, Kansas.
15th Intrusion - December 1884, Couch leads expedition to Stillwater.
16th Intrusion - October 1885. Couch leads expedition to Oklahoma City site, in the last boomer intrusion.

January 30, 1995 - Payne's remains were moved from Wellington, Kansas to Boomer Park, located in Stillwater, Oklahoma. The county set of the county named after him "Payne County".


ERECTED BY
JAMES SHIELD
Post No. 5 G.A.R.
Wellington, Kansas
In Loving Memory of
CAPT.
D.L. PAYNE
JUNE 29, 1836
NOV. 28, 1884
Co.F, 10th Kc is Vol. Inft.
--------
Correct
Birthdate
Dec. 30, 1836


CAPTAIN
DAVID PAYNE

BORN
DECEMBER 30, 1836
FAIRMOUNT, IN
DIED
NOVEMBER 28, 1884
WELLINGTON, KS
MOVED GRAVE
JANUARY 30, 1995
TO STILLWATER, OK
REBURIED
APRIL 22, 1995
AT BOOMER LAKE

CAPT. D.L. PAYNE
STARTED THE
OKLAHOMA BOOMER
MOVEMENT IN 1879
THROUGH HIS EFFORTS
THE UNASSIGNED LANDS
OF OKLAHOMA WERE
OPENED FOR
SETTLEMENT WITH THE
LAND RUN OF
APRIL 22, 1889

PAYNE COUNTY, OK
IS NAMED IN HIS HONOR