Wichitaís Patrol Officer Merle R. Colver
"Itís all in the line of duty."

Merle Colver


Merle Colver was born near Clearwater, Kansas, June 18, 1891, the youngest son of Bessie Watt Colver and R. D. Colver. Two brothers. Oken W. and Charles Vance passed away while they were young. He attended Clearwater schools and later pursued his studies at Southwestern College at Winfield, Kansas. At the age of 18 he took a bride, Mae Harding, on Dec. 28, 1909. To this union was born two children, Bessie May and Robert. Following the marriage, they resided on the Colver pioneer farm north of the city. He joined the Wichita Police force on January 1, 1924, moving his family to the city. In 1926, Merle was transferred to detective branch by Chief of Police I. B. Walston and within a year he would set in mark in the history of the Wichita Police force history.

The Porter Meeks Encounter



On August 9, 1927, three men, Herman Barker, Charles Stalcup and Porter Meeks, broke into the Crystal Ice Plant at Newton, Kansas. Once inside they beat the night attendant and put him into a freezer. They then opened the company safe, stealing two bags of silver, totaling $200, jumped into their gray Chevrolet sedan, speeding away into the night. Around two in the morning, Wichita Police Motorcycle Officer Frank Bush and his sidecar partner, Officer Joseph Marshal, were parked at a service station on the north side of town. Suddenly they noticed a gray sedan passing by at a very high rate of speed and the officers proceeded after it. The car was finally stopped in the 1100 block of North Lawrence, with three young men in view inside. Walking toward the car, Officer Marshall and Bush approached on opposite sides. When Marshall reached the driver, Herman Barkerís arm reached out from the vehicle and locked around Marshallís neck. Barker fired three shots from a revolver into Marshallís head, killing him instantly. As this was happening, Porter Meeks jumped from the rear of the car firing at Officer Bush, with him returning fire at Meeks. All the shots miss there marks and Meeks escaped into the night. Then Officer Bush turn to the car and opened fire on Barker and Stalcup who were in the front. The Chevrolet sedan pulling away, but not after a bullet hit Barker in his gut and Stalcup being hit in both thighs, hands and right arm. Soon Barker started to feel the effect of his wound. A few blocks away, while making a turn at a high rate of speed, he collided with a tree. Barker staggered away from the scene and fell into some weeds and high grass moaning loudly. Sometime later a blast of gunshot was heard. When the police arrived, the found Herman Barker dead from a gunshot to the head. A high caliber gun was near is hand. He was 33 years old. Charles Stalcup escaped from the crash and was found later in some bushes a block away. He was transported to a hospital and later confessed to the Newton robbery, with the police finding the money bag in the wrecked car. Then the manhunt turned towards Porter Meeks. After escaping into the night, he appeared at the home of Charles Mullenix and asked for a drink of water. Mullenix notice a revolver stuck inside his belt and after he left he contacted the local police. But throughout the night, Meeks disappear into the darkness again. The next morning, Detective Merle Colver heard the news about his fellow officer death and hope that someway he could help in bringing in the last subject. That brake soon came from a woman at a local store, that contacted the station, claiming a man bought a beer and cigaretteís, carrying a revolver in this belt. Officer Colver along with three other officers, Carrier, Lakron and Maness, was sent to the location. There a young man named Harold Burkholder, convinced them he had seen the man they were hunting for. Officer Colver put the young man into the car and he directed the officers to a vacant house. Arriving at the house, Merle Colver took the front while his fellow officers took the sides and back. Meeks was seen looking out the widow and was ordered to surrender, but instead he came out the front door with his gun firing. Officer Colver returned fire hitting Meeks in his side and the second shot into his heart. Porter Meeks was fully identified by his fingerprints. As he was lay dead in one room of the mortuary, funeral services for Officer Marshall were held in the next room. Merle Colver fellow officers rewarded him with a long-barreled .45 cal. revolver for his bravery. He carried the gun until the day he died, when Wilbur Underhill stole it off his dying body. Herman Barkerís body was returned to Millís Funeral Home in Webb City, Missouri. On August 31, 1927, he was buried in William Timber Hill Cemetery near Welch, Oklahoma. Soon his brothers, Doc and Freddie, and mother would lay next to him. The last resting place of the Barker Gang.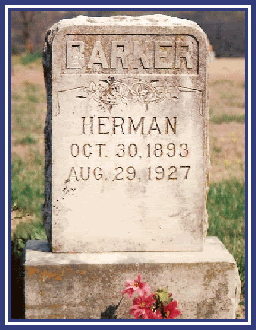 Herman Barkers Grave



On December 27, 1927, Officer Merle Colver was rewarded for his bravery in the Meeks battle by promotion to rank of lieutenant in charge of stolen automobile investigations. During this time he set a record for recovery of four to eight cars a week. In 1928 Colver ran for Sheriff and was defeated by Charles Ohrvall. On December 29, 1928, he was transferred without notice by Chief of Police O. W. Wilson to uniform ranks with grade of patrolman. This done maybe for him running for the sheriff post, looking to get away form the police force. In 1930 he again entered the sheriff race and lost again to Sheriff C. E. Grove. Losing twice in the Sheriff race Officer Colver settled down to be the best patrolman in the Wichita Police force. But being this kind of officer it brought him his own death on August 14, 1931.

The Wilber Underhill Encounter




| | |
| --- | --- |
| Wilbur Underhill | Frank Underhill |


A newspaper reporter once dubbed him "Mad Dog" and the Tri State Terror, due to his repeated assaults on business in the Tri-State mining district of Arkansas, Missouri, Kansas, and Oklahoma. His real named was Wilbur Underhill. After two terms in the Missouri State Pen and a number of stays in the city lockups throughout the Tri-State area, Underhill entered the Oklahoma State Penitentiary, On June 7, 1927, after been found guilty of murder and given life at hard labor. On the morning of July 14, 1931, as Wilbur and a group of 150 inmates were marching to the brickyard, located outside the prison gates, he jumped off a footbridge and hid into some tall grass. After the men had passed he stripped his prison clothes and wearing civilians under them, he walked passed the guards calmly, into town. Hitch-hiking along the roadways he made his way to Joplin, Missouri, where he got in his company a nephew, Frank Vance Underhill, and by July 21 had checked into a hotel in Cherryvale, Kansas, under a alias named of Ralph Caraway. On the evening of July 28, Underhill and his nephew, were visitors at the Sedgwick County Jail in Wichita. They were visiting a inmate named R. Elam. Although the officers there at the time thought nothing of the visit, they would positively identify the pair later. On the following night, a bandit matching Wilburís description held up a Skaggs Drug Store in the Wichita area for a few hundred dollars, and the bandits headed back to the Cherryvale, Kansas. A few days later, Aug 1, Wilbur Underhill was identify as a man, armed with a hand gun, that held up the Midland Theater in Coffeyville, Kansas. His total take was $220. The following day he was back in Wichita where he robbed the Neely Cities Service Station, this time leaving the fifty six year old operator, William E. Neely, laying in front of the cash register with a bullet in the chest killing him instantly. Over the next few weeks, dozens of individual were questioned and road blocks set up in an effort to locate the murderers. Shotgun toting officers manned surveillance post at several rural gas station hoping to ambush the pair, but Wilbur had left for the Kansas City area, where he bought him a new Ford Roadster. On the night of August 13, Cecil Honick was sitting behind the counter of the Texaco filling station located at the intersection of Ida and Kellogg Street, when Wilbur Underhill entered and produced a large automatic pistol. Cecil forked over the cash from the register, $18.24, and then he was ordered out side to a nearby alley where he was forced to lie on the pavement. Here he heard this words spoken by Underhill, "I ought to blow out your guts so you canít squawk.", before he jumped into a Ford Roadster and sped away. One hour later Wilbur and this nephew, were speeding down South Lawrence Road with Frank at the wheel when a car driven by J. A. Walker of Fairview, Kansas, sped through a stop sign and broad-siding them. Both cars were badly damaged and were towed by a wrecker to a garage on South Water Street. Walker requested Underhill and is nephew to meet him in the morning to settle up, which he agreed. Wilber then took Frank to the Wichita Hospital were he was treated for various cuts and bruises. After catching a ride Underhill checked into the Iris Hotel, room #15, on the third floor, around 2 am, at Douglas and Water Street. Wilbur register as Ralph Caraway, and Frank as Frank Vance. At 8:15 am the following morning Officer Merle Colver, began his morning rounds checking out recent arrivals at downtown hotels and boarding houses. Entering the Iris Hotel he was informed about two suspicious fellows, one with a bandage on his face, that had gotten a room early in the morning. To be one the safe side Merle Colver decided to check them out and proceed upstairs. In the Wichita Eagle Underhillís confession was print as just what happen at that meeting: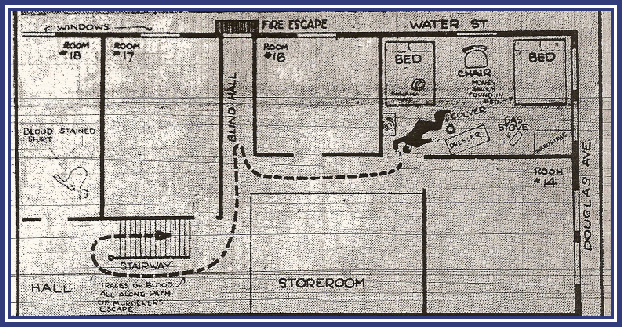 Crime Scene
"Officer Colver came to the door, knocked, and said, "This is the police," and before I could go to the door he came on in. He said it was his duty to check these hotels every morning. He sat down on the foot of the bed and was talking to us about our business and what it was in Wichita and where we lived and asked us when we were going to leave and I told him my business was a hotel In Cherryville, Kansas. I showed him my papers on my car, proving my identity as Ralph Caraway. Then he asked Frank who he was and where from and about his business. He didnít have any papers to prove is identity and Officer Colver said, "I donít want you to feel hard towards me for inquiring into your business for it is a matter of duty." Then Officer Colver got up from the bed and looked through some packages sitting on the dresser and then looked under a coat, and pillow on the bed. He then walked over to a window shade and then over to the other bed in the room. Under the pillow of that bed was my pistol and I reached and got it before he found it. He stepped back a few feet and I ask him to put up his hands but Colver started hit me with his club so I shot him 3 times and me and Frank ran from the room."
The trio was soon spotted sprinting down the stairway. according to the landlady, Underhill was shirtless but carrying a suit, He has stopped just long enough to toss a blood-soaked shirt into a vacant room before turning towards her and saying, "Thereís been an accident upstairs, you better call the cops." She then dashed up to the room and found Officer Colver sprawled on the floor. When the news reached the Wichita PD, the dispatcher directed the officers to the Allis Hotel. Discovering the mistake the soon arrived at the Iric, where they were directed to the room, and found Officer Colver lying motionless on the floor, with his service revolver missing. Under his body were found a stack of photos, one of Wilbur Underhill, taken in Joplin, Missouri with his named marked on the back. The landlady soon identified Underhill as one of the men. And after contacting Joplin they soon found out he was a escapee from The Oklahoma State Pen. Officer Colver body was removed in an ambulance to the Lahery & Martin Mortuary to await plans by his family for funeral service.

Colver's body being taken by ambulance.



A massage manhunt was soon on for the two suspect. After ten hours of searching Officer Ray Mitchell and ex- Wichita officer Jack Mylers, located them lying under a tree in Linwood Park. When the officers asked for them to surrender, Frank complied, but Wilbur, tried to pull Officers Colver service revolver from his pocket. Officer Mylers responded by opening fire. A slug from his gun hit Underhill in the neck, temporarily paralyzing his arm. Wilbur then ran for about five blocks and was found in a patch of tall weeds. The suspect were soon hauled to the station with Wilbur given treatment for a miner wound to his neck.

The Colver Family Reaction



The first one to find out about Officers Colverís death was his sixteen year old daughter, Bessie May. She arrived by a streetcar, and walked into the crowd at the Iric Hotel not knowing what had happen. When told the news she burst into tears and collapsed in grief. A kind friend drove her home to be with her mother. When his son, Robert, was told of the shooting, his legs shook as he asked for the detail. But he soon turn his mind to his mother and rushed to be by her side.
| | |
| --- | --- |
| Bessie Colver | Robert Colver |


At the home a Beacon newspaper report was giving, Merle Colverís wife the bad news. She slumped to the floor crying, "Take me to him! Oh! Oh! What will I do? Take me to him!" She then ran from the house screaming wildly, bent on getting to her fallen husband side. Overtaken by her son, Robert and the Beacon reporter as she was running out in the street directly into the path of passing cars, she soon collapse. "Why did they do it, why did they do it?" she moaned over and over again. "How could they kill a good man like Merle? He never harmed a person in his life. It canít be true, it canít be." she said while her body was taken back inside the home. Merle Colverís mother, Mrs. B. W. Colver of Clearwater, was informed of the death of her son by radio. She had just finished eating breakfast when the news fo the slaying of her son, and the manhunt for the murderers came "over the air." She rush immediately to Wichita to comfort Mrs. Colver and her grandchildren. Mrs. Colver was 77 years old and held up bravely under the tragedy. "Itís all in the line of duty," she told her sons wife. "Merle wasnít the first policeman to be shot and he wonít be the last. We know he died doing his duty and we must be brave."

The Funeral



Merle Colver funeral was held on a Monday afternoon in Clearwater, Kansas. It was a drizzling day, with cars line up for blocks, several hundred from the Wichita area. Only a small portion was able to get into the Christian Church where the service was held, so the others stood outside in the rain in little groups.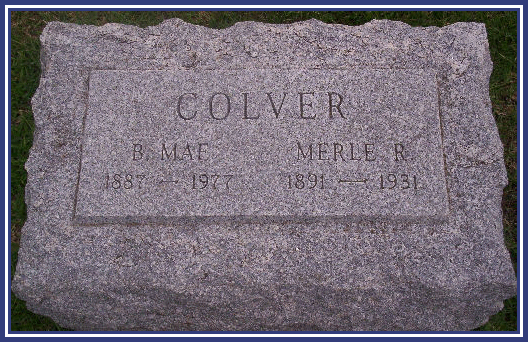 Merle Colver's Grave



The pallbearers were follow officers and a vanguard was formed of all the Wichita police off duty and several from the Hutchison department. The Masonic Lodge of Clearwater, along with Wichita and Conway Springs, conducted the services at the grave. The service was conducted by Rev A. P. Sherman, Rev. S. A. Gardner and E. A. Nossaman, pastors of his home town. Tears were mingled with memories as Officer Colver was laid to rest. He was 47 years old.

The Aftermath



On September 4, 1931, a heavily chained Wilbur Underhill was led into the courtroom of Judge J. E. Alexander where he pleaded guilty to first-degree murder of Officer Merle Colver. Judge Alexander then sentenced Wilber to serve life at the Kansas State Penitentiary at Lansing, at hard labor. He was then immediately flown by plane to the prison where he checked in as prisoner #2337. Underhillís nephew, Frank, trial began a few weeks later. He was tired for the murder of Merle Colver. After a long drawn out fight, the jury found that he was just under the spell of his uncle and found him not guilty. This angered Colver fellow officers and they spoke there mind to Frank as he left the Sedgwick County Jail. On the morning of May 30, 1933, Wilbur Underhill along with fellow prisoners made a escape for the Kansas Penitentiary. which started a crime spree throughout the southwest. Wilber later would be surround at a home in Seminole, Oklahoma and wounded in December of 1933. He was transported on the 6th of January to the Oklahoma State Penitentiary, where he died the same day that he arrived. He was later buried at the Ozark Memorial Cemetery, in Joplin, Missouri.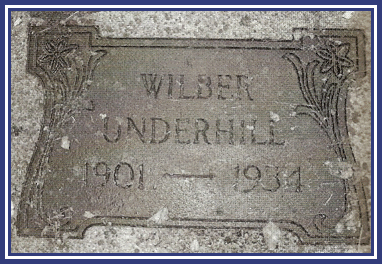 Wilbur Underhill's Grave