Amelia Earhart's Blackwell Visit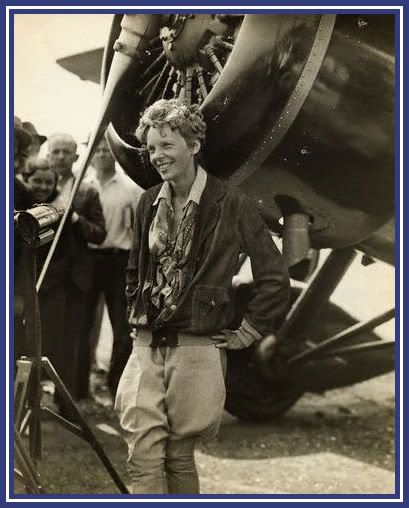 On July 2, 1937, Amelia Earhart and her navigator, Fred Noonan, during a try to circumnavigate the globe, disappeared over the South Pacific. After a long search of the South Pacific, her two engine Lockheed 10-6 Electra, was never found and is a mystery today. But at the height of her fame, Earhart passed through Blackwell, Oklahoma creating a story which appeared in the Blackwell Morning Tribune on Feb. 21, 1921. That story is as following:
Amelia Earhart, Blackwell's "Daughter for a day" was arrested in her Foster City Saturday for speeding, was tried and fined $3.50. Blame for this action, which incited any number of citizens, to say nothing of the chamber of commerce, to near insurrection, may be laid very near the heart strings.
It was George Putnam, friend, husband, who brought about such a state of affairs. He and his aviatrix-wife, Capt. Harry Manning, the navigator, and Mechanic Bo McKneely drove to Ponca City for lunch Saturday. While there Putnam sneaked to a telephone and made arrangements in Blackwell to have Amelia arrested for speeding as she entered the city limits, unbeknown to the rest of the party.
So picking up the story from here or there we find the Terra plane sedan, which was loaned by the Williamson Motor Company, breezing into the environs of Blackwell at about 50 M.P.H. Officer Hiram Ragan was on hand and ran down the car and brought the driver to the police station where she was booked for speeding.
Because the flier was in a hurry, Police Judge Roy W. Cox was called to hold court, then 2 p.m., rather than wait until 5 p.m. Miss Earhart pleaded guilty.
"I was going faster than I should, I guess. I didn't know you had speed laws here. I was not familiar with the zones and didn't know I was in the city limits," she explained to the Judge Cox. "And I didn't see any speed signs," she added.
Cox turned to Putnam, who had made a remark or two. "Do you assume responsibility for her?" Cox asked, not knowing it was her husband. "No," exclaimed Putnam, "I'm just a relative and I disown her." There was a titter in the court.
"It seems they think this is something funny," Cox said, and the room quieted.
Miss Earhart explained that she was driving a borrowed car.
"Where you from?" asked Cox.
"New York City," she replied.
"Where you going?"
"To California."
"In a barrowed car?"
"No, in an airplane!"
"So, you are a flier," Cox said.
"Mmmhhumm"
"Well," Cox continued, "there may be no speed limit up above Blackwell, but here on the ground we have certain limits and regulations."
"Yesterday," the aviatrix began, "I was glad to see Blackwell from the dusty region 12,000 feet up. I came in much faster then, because my plane lands about a hundred miles an hour. I guess it's a rather hard for me to control ground speed when I get into a car."
Cox said since she was a visitor and not familiar with the regulations he would assess her the minimum amount $1 and cost, adding up to $3.50.
With a smile that she has used continuously since her landing here Friday afternoon to repair a propeller on her "flying Laboratory", Miss Earhart dug into her slacks and pulled out three dollars and a fifty cent piece.
Friend husband was mildly remonstrative about it all, but inside he was fairly burstin' with suppressed glee. As Miss Earhart walked into the desk sergeant's office to pay the fine, Putnam slipped a word to Judge Cox. "Nice work judge, you are a swell actor."
"Was that really Amelia Earhart?" Cox the asked Putnam, "I thought they were trying to kid me all the time." This rather took Putnam who thought the police judge was "in" on it all. He was but he couldn't get out of his actor role.
When the foursome was brought into the police station, Capt. Harry Manning was slightly belligerent in word and almost in action. The boys at the city hall showed no favor upon their visitors, whom they presumed not to know.
Police Chief John A. Riehl knew, but just missed out on the party; Mayor O.A. Raffety had been forewarned of "something"; Ed Martin, secretary of the chamber of commerce, had telephone calls and jitters, and Airport Manager Dewey Mauk, who had looked after the every wish of his guest, about threw a hissie.
The fine paid, Amelia still claimed she didn't see the speed limit sign. "I'm going out and take a picture of it," she said. She did, or rather, Prankster Putnam took her picture standing by the sign.
Dawn began to break over the situation as they arrived at the airport. There was a twinkle in Putnam eyes, and a broad grin on the Earhart mouth.
"You have behaved pretty well up to now," she told her husband, "but I have half a mind to take off without you." Turning to Mauk she asked, "How much is the bus fare to Burbank - for one?"
Prankster Putnam felt that all was not in vain. As New York representative of Major Pictures, an independent movie company that makes eight pictures a year for Paramount, Putnam felt he stumbled across some highly eligible talent among the Little Theater Group of the city hall.
Police Judge Cox and Officer Ragan he described as "naturals", they ought to make sure shot success on the silver screen, he intimated.
Putnam was particularly impressed with the ability of Cox to "stay in character." Ragan was so real, he said, that he almost had me scared. He's the Clark Gable type-brutally handsome, or something, the film executive said.
When the spectacle of speed trial was over, arrangements were made to return Miss Earhart the money she had paid as a fine. It was enclosed in an apologetic epistle with the best wishes of the force for "happy landings."
The winsome flier, standing before the police judge, must have felt that Blackwell had knifed her in the back, so to speak. For upon her arrival at the hotel after landing Friday, she was presented with a key to the city - 10-foot affair, that certainly carried in principal, if not practically, the idea of a free reign in these parts.
But everything returned to status quo when she saw to the bottom of the plot. She and her husband both said they have enjoyed their impromptu visit here and hope to be able to come back again and "loaf a while". "We've had fun," they said.
So Blackwell learned Saturday that four persons can create quite a ripple in the ordinarily placid stream of life in this city.
Adventures drop out of the skies. Wheee!